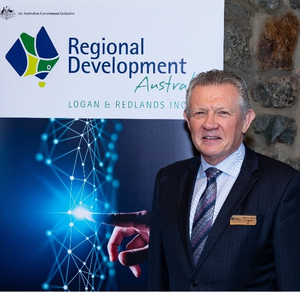 I have previously noted the past 3 years has seen unprecedented, concurrent impacts on Australia's economic and social environments. This has included:
instability in geo political conditions;
fires;
floods;
drought;
an enduring pandemic;
changing work practices;
a growing call for and reliance on publicly funded business and employee assistance; and
heightened internal migration.
This changing world has had a major impact on the Logan and Redlands Region and draws attention to this often overlooked Region.
Over the past 12 months Regional Development Australia Logan & Redlands (the RDA) has been developing an event to address the challenges of the immediate past, identify opportunities for the region into the future and provide a focus for collegiate action across the South East Queensland region. This work has been taken forward in consultation with key stakeholders from the three levels of government, business representative organisations and their members, community organisations and Regional Development Australia Committees from across the South East Queensland region.
It was with great pride the RDA hosted the To 2042 and Beyond : Investing in SEQ Summit on 29 September 2022 at Sirromet in Mount Cotton. Reflecting the extensive consultations and the RDA's commitment to the long term, the event considered a broader South East Queensland context in addressing impediments to and opportunities for regional economic growth. It is the position of the RDA that while the key events such as the SEQ 2032 Olympics and Paralympics provide great incentive for regional investment, it is necessary to ensure the legacies extend well beyond 2032.
The Summit brought together key decision makers, funders and stakeholders to identify opportunities for the broader South East Queensland Region. The generosity of speakers in giving their time and energy to the Summit is what brought the day to life.
I invite you to read on to access an overview of the day's activities in addition to the key messages from the three themed sessions.
To stay abreast of developments as we take forward the outcomes from the Summit, you may wish to follow RDA Logan and Redlands on LinkedIn, or alternatively, subscribe to our regular e-bulletins which can be done here.
A supplementary Quarterly Report to the Region for July to September 2022 will be distributed later in October 2022 to provide information on the broader activities of the RDA along with information about initiatives impacting the region.
If you wish to be part of the RDA's work, please contact our Director Steve McDonald at for further information.
For further information on the RDA, go to https://rdaloganandredlands.org.au/.
The Hon. Gary Hardgrave
Chair
Regional Development Australia Logan & Redlands Inc
Overview of the Morning Session
Themed Session 1 - Identifying and Addressing Regional Infrastructure Gaps
Themed Session 2 - Opportunities for Regional Investment
Themed Session 3 - What are Investors Looking For?