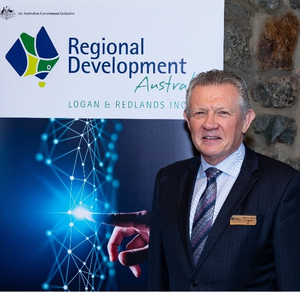 My message in the Logan and Redlands Region October to December 2022 Quarterly Report noted the impetus the October 2020 RDA's release of Logan and Redlands: The Centre of Economic and Employment Growth for Queensland had provided for developing and growing a communications strategy whereby the RDA regularly meets with key stakeholders from within the Logan and Redlands Region and from adjacent regions.
This allows the RDA to directly hear about the challenges and opportunities facing the Logan and Redlands and broader Region as it continues its repair from the economic and social impacts of the pandemic and confidently explores opportunities arising from the SEQ City Deal and the 2032 Olympic and Paralympic Games.
The Board has come away from these meetings with a substantially deeper understanding of the issues confronting the local economy and the residents of the Region. This enabled the RDA to plan for and conduct its To 2042 and Beyond : Investing in SEQ Summit in September 2022.
Reflecting the extensive consultations and the RDA's commitment to the long term, the Summit considered a broader South East Queensland context in addressing impediments to and opportunities for regional economic growth. It is the position of the RDA while the key events such as the Brisbane 2032 Olympic and Paralympic Games provide great incentive for regional investment, it is necessary to ensure the legacies benefit the regional economy and its community, extend well beyond 2032 and are across South East Queensland.
Drawing together the outcomes from the above work of the RDA, the Strategic Regional Plan Logan and Redlands: Challenges and Opportunities for Sustainable Growth was released in February 2023 reflecting the need for cohesive, co-ordinated and long-term strategic regional planning. The Plan lays out the long-term, broad goals to be achieved as the Region pursues its economic development, social cohesion and environment sustainability goals.
The tactical planning is being documented through the raising of the RDA's 2023 to 2024 business plan which will include the short-term steps and actions to be taken to achieve the goals from the Strategic Regional Plan. The 2023 to 2024 business plan will be made available publicly once cleared for release in mid 2023.
If you wish to be part of this development work, please contact our Director Steve McDonald at for further information.
For further information on the RDA, go to rdaloganandredlands.org.au. Information on Board members is available here.
The Hon. Gary Hardgrave
Chair
Regional Development Australia Logan & Redlands Inc
National Reconstruction Fund Updates
Inland Rail - Kagaru to Acacia Ridge & Bromelton (K2ARB)
Joint South East Queensland Regional Development Activity